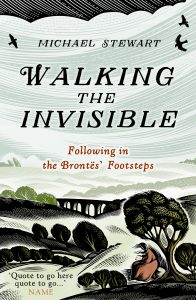 I've been captivated by the Brontës since I was a child, and have travelled all over the north of England in search of their lives and landscapes. Now, I'd like to invite you into the world as they would have seen it.
Following in the footsteps of the Brontës across meadow and moor, through village and town, this book takes the form of a series of inspirational walks through the lives and landscapes of the Brontë family, investigating the geographical and social features that shaped their work.
This is a literary study of both the social and natural history that has inspired writers and walkers, and the writings of a family that have touched readers for generations. The book also takes a walk on the wild side of the north of England now.
Published in hardback in June 2021 by HQ Stories (HarperCollins). Also available as an audiobook. Listen to a sample here
"evocative" and "fascinating"
Read the full Guardian review here
Watch me on Britain's Novel Landscapes with Mariella Frostrup for Channel 4 here
'imaginative and elegant trek through the landscape of the Brontës' Grazia 
"excellent book"
Read the full Yorkshire Post review here
Read the Scarborough chapter here
Read John Wheatley's review here
Read Goodreads reviews here
Read The Secret Victorianist review here
Read The Lancashire Post review here
"An intelligently written and evocative read."
Great review
here