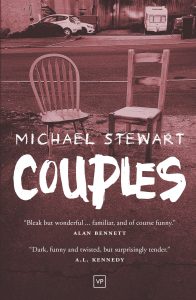 Couples is a blackly comic sequence of poems that explore the nature of co-dependency – of two people who want to be together, but at the same time cannot help but push each other away.  The poems are placed in their own 'couples', opposing pairs that face each other across the page. Sometimes they exchange a glance, sometimes they stand side-by-side, staring out into the abyss; only when the book is closed, and they are in darkness, do they truly come together.
Buy it from the publisher here.
My blog about the writing of 'Couples' here.
 *  REVIEWS  *
"This collection bristles with strange intimacies… Couples is an entertaining and hilariously brutal collection." Northern Soul Magazine

"The collection is funny, tender, bleak, haunting, unnerving – perhaps best not read to your loved one this Valentine's Day, unless      you're both on the same page." Emma Clayton
"Ingenious … Couples does what very good writing can: it makes you look around you, see things differently … Once I'd read the book I couldn't take my eyes off that older pair on that bench in the park in the drizzle … this book gives us another angle, another way of looking, another way of listening." Ian McMillan.
Alan Bennett says: 'Bleak (but wonderful)… familiar, and of course funny.'

'Marked with wryness, warmth and sympathy.'
A L Kennedy: 'Dark, funny and twisted, but surprisingly tender.'

'…particularly notable for its use of the pamphlet form, presenting pairs of poems…which face each other on the odd and even pages of the book…The poems often talk to each other in a more or less direct way.' (David Clarke)