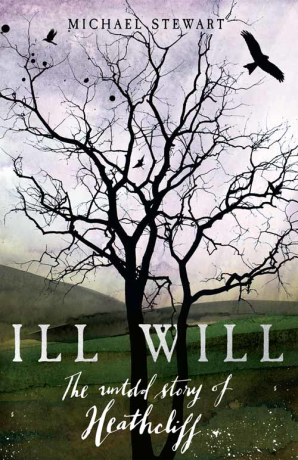 Ill Will: The Untold Story of Heathcliff, is a novel about Heathcliff's missing years. It is published in hardback and paperback by Harper Collins in the UK and the USA. There is also an ebook and audiobook. The film rights have been optioned by Kudos Films. Here are just some of the reviews:
Reviewed in the Times Literary Supplement
Was made book of the month at LoveReading!
Picked as a favourite novel at Sheperd.com!
*Interview* with Yorkshire Post's Yvette Huddleston here
…and with Northern Soul here
…and with Historia here
…on Jane and Bex Book Blog here
…plus video of Yvonne Huddleston's interview at Bronte Parsonage here
…and a permanent record of March 2018 BBC Radio Leeds interview here
…and the Long Read in The Independent on April 1 2018
…in Bradford's Telegraph and Argus
Book of the Week in the New York Post
'An astonishing novel' Independent
'Easily outdoes the original Heathcliff' The Times Literary Supplement
'beautifully written and thrilling' Yorkshire Post
'Brilliantly incorporates the 'facts' of Brontë's original, while expertly filling in the gaps' Yorkshire Post
'visceral and unswerving' Historia Magazine
'fearless' Historia Magazine
'A superb book, as good as British fiction currently gets' Loud and Quiet Magazine
Reader reviews from Amazon and Good Reads
'A very atmospheric book which really captured the times'
'I enjoyed every line of this wonderful book'
'The characters are beautifully drawn, the detail is superb and the narrative crackles'
'a vivid insight'
'a fascinating read. A real pager turner'
'Michael Stewart's best novel yet'
'descriptive prose and superb characterisation kept me enthralled'
'gory and gripping in equal measures'
'Really didn't want the book to end'
'heart-breakingly good'
TV video and radio
Review sources and links