Watch me in conversation with Edward G Pettit, talking Brontë Stones, Ill Will, Walking the Invisible, and focussing on chapters 7&8 of Jane Eyre here
Watch me being interviewed by Georgina Lennon for the Bradford Literature Festival Book Club, talking about one of my favourite books, The Road, by Cormac McCarthy:
Watch me talking about Anne Brontë and The Tenant of Wildfell Hall, in relation to my own work and the Gothic Literature tradition here
Watch me in conversation with television writer and director, Sally Wainwright here
Hear me being interviewed in March 2018 by Unsound Methods here….and on BBC Radio Leeds here (2:11:00 in, available till 17 April 2018)
*
Said the Bradford Telegraph and Argus of the 13 people to watch in '13…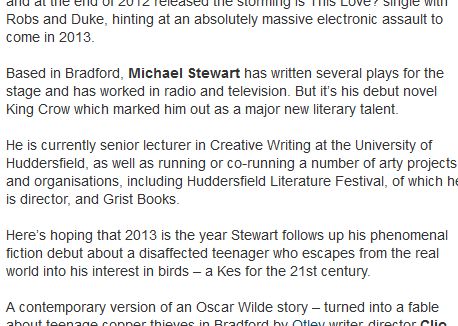 *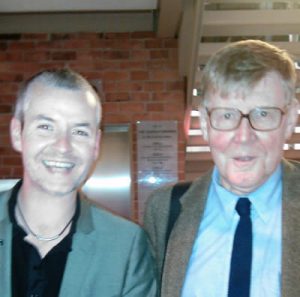 AN EVENING WITH ALAN BENNETT – IN CONVERSATION WITH MICHAEL STEWART AND SCRIPT YORKSHIRE – FRIDAY 10 SEPTEMBER 2010 – CARRIAGEWORKS THEATRE, LEEDS
*
A documentary of the Huddersfield Literature Festival 2009 which took place between March and June and featured John Cooper Clarke, Lemn Sissay, Mark E Smith, Joanne Harris and Ian McMillan.
https://www.michael-stewart.org.uk/wp-content/uploads/2016/05/VTS_01_1.VOB
*
An exhibition of pen and ink pictures, drawing on literary influences.
https://youtube.com/watch?v=TDsg-3__ic4%26hl%3Den%26fs%3D1%26
*
A photo montage featuring me in conversation with Mark E Smith.
https://youtube.com/watch?v=sf5yeZGah5E%26hl%3Den_GB%26fs%3D1%26
A full transcript of the Q & A is available by clicking here.
Assorted newspaper articles.