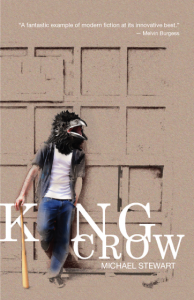 Paul Cooper is an outsider. When he looks at people he wonders what bird they are. He finds making friends difficult especially when he has to move from school to school, so he obsesses about ornithology until he meets Ashley.
Ashley is everything Cooper isn't. He's tough and good looking and full of street cred. When they get into trouble with a local gang they steal a car and head for the Lakes – Ashley because he thinks he may have killed somebody, and Cooper because he wants to see ravens. Their flight is hectic and intense, and in the middle of it all one of them meets a girl and the other one feels left out. The three of them find refuge for a time in Helvellyn, but things are falling apart and soon their road trip makes national headlines… for all the wrong reasons.
Winner of The Guardian's Not the Booker award, and chosen by David Peace as one of the featured books for World Book Night 2012.
"Beautifully ammoniacal and intense." Will Self
"A brilliant novel. One of the best debut novels I have read in years." David Peace
"Modern fiction at its innovative best." Melvin Burgess
Promo film
 * REVIEWS (click on logo for full review) *
"Stewart does an excellent job depicting life on the estates of Greater Manchester. His tone is perfect: heartbreaking stories accompanied by a shrug.
The late David Nobbs, author of Reggie Perrin – 'On a nightmare train journey home, luckily I had a book with me. It was called King Crow. It saved my sanity. I think I would have been riveted by this even if I hated birds. Lovely stuff. Very very good. Thank you.'

'King Crow was this year's most sophisticated and surprising debut novel.'  One of their books of the year.
David Peace – 'KING CROW is a gripping and moving story told in a unique, yet authentic Northern voice. It is a brilliant first novel and the best debut I have read in a long time. I am excited and intrigued about what Michael Stewart will write next.

'A beguiling mix of anomie and ornithology, much of this novel is brilliant.' (Sam Jordison)


'In flight in the right direction.' (Jim Greenfield)

'Strange and compelling.'  (Chris Burgess)
Nick Ahad, Yorkshire Post – 'My bus stop is approaching, but there are five pages of King Crow left. What's the decision? I miss my stop to finish the novel… a piece of work that rattles along at breakneck speed… a gripping read… will keep readers intrigued right to the end.'

'Stewart is a poetic writer – about nature, about boys and casual violence – and good at capturing moments of beauty.'  (Isobel Montgomery)
Melvin Burgess, author of 'Junk' – 'Michael Stewart is a fascinating new voice, and King Crow is a fine debut novel. Part action thriller, part psychological drama, part birding manual, I've come across nothing quite like it. It's a fascinating example of modern fiction at its innovative best.'

'Beautifully written…something special and unique…'

'A deliciously dark and dryly funny debut novel'
'Emblematic of the North.' Tom Carlisle and the New Northern Canon
 Interview: Big Issue in the North
'A compelling read' – Blog: Ribble Babel