Connor's Song, BBC Radio 4, February 16th 2018.
Connor's Song stars Siobhan Finneran as Michelle, a single-mother who lives in Yorkshire, and whose life collides with a woman from Poland when they both receive devastating news.
Dead Man's Suit, BBC Radio 4. A strange loner buys a suit in a charity shop and it changes his life.  First broadcast in May 2013.
Dark and Dirty Theatre company
The Shadow of Your Hand is a dark psychological drama written by Michael Stewart, directed by Sue Jenkins, produced by Lucia Cox and starring Rosie Fleeshman and Steven Pinder. It was a Dark & Dirty production for the 2011 24:7 theatre festival in Manchester.
Wat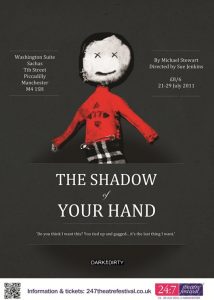 ch the trailer here: http://www.youtube.com/watch?v=K3KvK5AqsTo
"A great study in extreme shifts of power… gripping"  British Theatre Guide
"An intense two-hander… with plenty of laughs… the effect is explosive"  City Life
"One big darkly black power play. Full of psychological shifts. The power dynamic is very cleverly created by Michael Stewart's script and well maintained by both actors."  Cultural Shenanigans
"A pleasure to watch… so much quality on display"  Public Reviews
"The interactio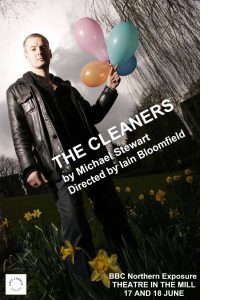 n between the two is like a frisson of lightening building up to a thunderclap… I wouldn't like to have missed this professionally crafted play"  This is Lancashire
Castaway was first broadcast on BBC Radio 4 on Monday 14 Feb 2011.
The Cleaners (Bradford Theatre in the Mill, June 2009) is a dark comedy dealing with everyday fears of college lecturer, Jack, as his life seems to crumble around him. Combining satirical social comment with a personal story, The Cleaners manages to move and amuse in equal measure.
Excluded (BBC Radio 2008).  Read the BBC feature here.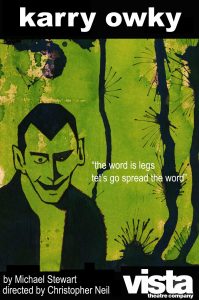 Karry Owky, directed by Christopher Neil for Vista Theatre Co.
'gripping adult material, that crackles with energy and commitment' (Manchester Evening News)
'Blisteringly funny' (Huddersfield Examiner)
Brood, Albany Lunchtime Theatre, is a violent and obscenely funny examination of a dysfunctional family in a contemporary northern town.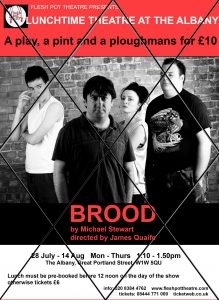 'absolutely lovely work'
'a truly remarkable grasp of the character's psychologies'
'true flair'
'a grotesque unconventional family drama… Wonderful… Macabre'
(Soho Theatre)
'striking… extremely compelling'
'the dialogue is fantastic'
(Paines Plough)